The low yield, low return environment has bedeviled investors for the past few years. It's been the catalyst for asset managers to load up on so-called alternative investments. But increasingly it looks like too much money is chasing too few opportunities.
Partners Group Holding AG, a publicly traded investment firm based in Switzerland, said this week it saw "record demand" for its three programs offering private equity, private debt and private infrastructure investments. Assets under management increased 6.6 percent in the first half to 57.8 billion euros ($66 billion); the firm expects inflows of as much as 12 billion euros this year. And, as my colleague Leila Abboud reported this week, cash is flowing into European venture capital funds at the fastest pace in a decade.
With returns expected to remain low in the coming years, there's been what U.S.-based investment manager Invesco Ltd. calls a "near-uniform tilt to alternatives." Sovereign funds, for example, are taking advantage of their longer-term investment horizons and the extra bang their bucks get for so-called alternative investments — so much so that they're crowding each other out. The funds expect to take longer to physically deploy their cash.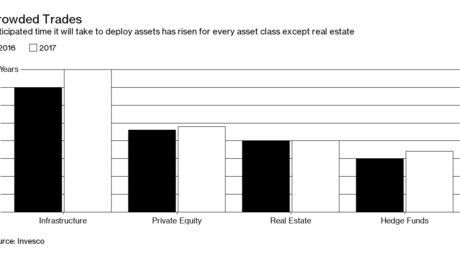 That delay is important, Invesco said in its recently published annual survey of what sovereign investors are doing with their money, which covers 43 managers of more than $12 trillion.
The growing pile of money that hasn't been deployed is being held in cash and money-market funds, according to the report. While that's a great way to be able to move quickly when opportunities do arise, the low returns on cash and its equivalents further exacerbate the gap between expected and realized returns.  The average return for the sovereign funds surveyed was 4.1 percent in 2016, falling well short of their 6.1 percent target, the study says. 
Funds are trying to put more money in the ground by chasing larger investments — particularly in infrastructure. The problem is the number of deals is dwindling.
The average size of an infrastructure deal this year has climbed to almost $520 million, up from $344 million in 2016, according to Preqin, which compiles data on the alternative assets industry. The global total in the second quarter, however, declined to $51 billion from $90 billion in the first quarter.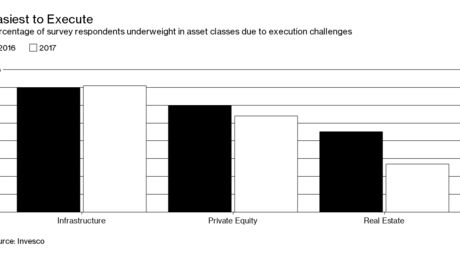 With it proving more difficult to invest in infrastructure and private equity, sovereign wealth funds are piling into property.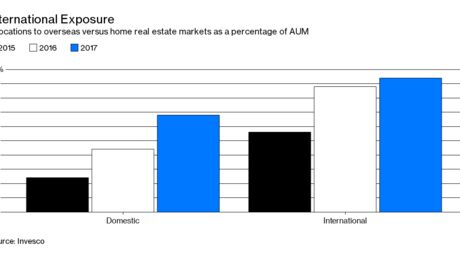 Some 58 percent of those surveyed by Invesco said higher yields are the key attraction of real estate, and Invesco anticipates funds will continue to chase deals in the asset class. The funds may have little choice; but it's easy to see how the returns could turn out to be less than spectacular.
Read more: http://www.bloomberg.com/news/articles/2017-07-14/crowded-illiquid-trades-push-sovereign-funds-to-property